I'm making the big step of moving out of my parents house tomorrow!
Which means all new responsibilities but a new way and exciting way of expressing my love for all things Disney.
But, living with a none Disney lover can make it hard! So, here are five tips on getting your way without it being too overbearing for your partner or roommate!
1) Disney Ears.
As a Disney fan, there are always at least one pair of Disney ears lying around the house. And as much as we love them, wearing them while you wash the dishes just isn't the same! So, why not dress up your walls by adding them to a frame and some hooks?
It's a great way to show your love of Disney, and a lovely way of celebrating memories of Disneyland trips!
Collectable Pin Display
If you've ever been to any of the Disney parks, you might recognise some of these pins! They are collectable badges that are available in the parks, you can even trade with cast members to get your hands on rare ones! If you're hoarding pins from past trips, You can pull them out of the cupboard by getting yourself a big frame with a piece of stretched material in place of the glass and get them on display!
You could even have themed boards if you have a lot of pins! You could have a halloween board, christmas or even theme them by films and characters just like this Tangled frame.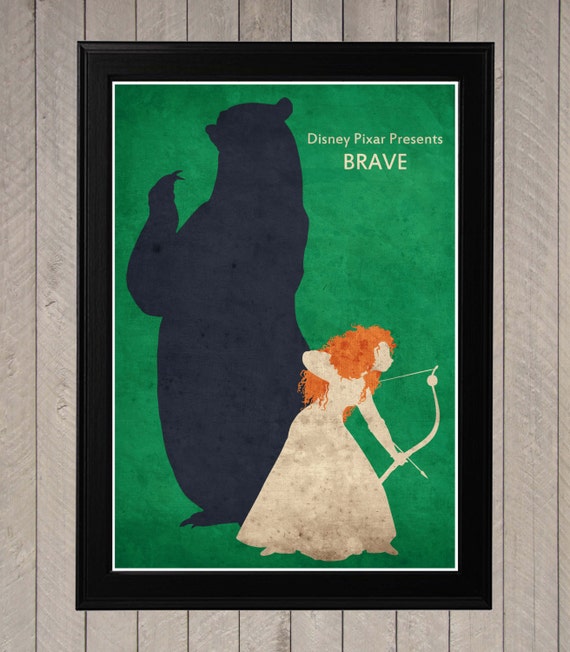 Available to purchase from CultPoster
Vintage Posters
It's very stylish to have blank walls with posters and prints decorating the blank space in home decor at the moment, which you can use as an excuse to get your hands on a vintage style poster like this one.
CultPoster, a shop on Etsy, sells these minimal posters, which make them perfect for a Disney and Non-Disney loving household!
Make money saving fun!
Although Carl and Ellie never got to use their paradise falls fund. *sob*, you can follow in their footsteps and save your pennies for a holiday, a new car, anything! By getting a cool vase or bottle and making your own Paradise Falls fund. This sweet little nod to UP! would be a perfect and subtle Disney addition to any home.
Magic mirror on the wall…
Although this item isn't technically Disney, its still a way of bringing the magic into your home.
Fairylights can be purchased just about anywhere, in any color, shape or size, and wrapped around a large mirror like this can give any bedroom an enchanted feel that's sure to make you feel like a Disney prince or princess.
Having your own home is fun, and getting to decorate it your way is even funner! I'm so excited to try all of these decor tricks out and find new ones and new ways to express my love for my favorite characters.
Do you have any Disney decor tricks? Let me know in the comments!